Welcome Educators
This section is dedicated to you, to support your efforts in the classroom. Please peruse the Resource Guides, Field Trips, Environmental Education Mini-Grants, Online Resource List, Reference Book List, and Children's Book List pages and let us know how we can further assist you.
Healthy & Waste-Free Lunches Resource Guide
Kokua Hawai'i Foundation's newest Resource Guide will give you tips for packing Healthy & Waste-Free Lunches for your keiki. See what your Waste-Free Lunch Kit should include and pack it with healthy lunches including foods that are fresh, local and close to the source! To view or download the Healthy & Waste-Free Lunches Resource Guide click here.
Healthy Snack & Waste-Free Classroom Celebrations Resource Guide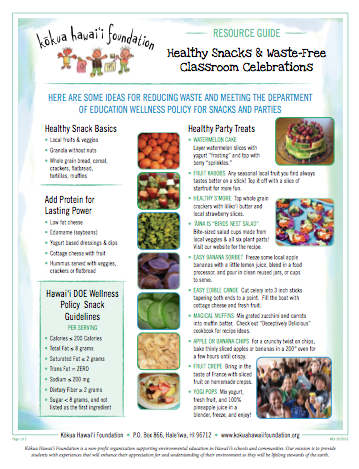 Before planning your holiday or end-of-year class parties, check out the newly released Healthy Snack and Waste-Free Classroom Celebrations Resource Guide.
Encourage your school to serve healthy snacks during HSA week!
This resource will also give you ideas to increase compliance with the DOE Wellness Policy, while reducing your environmental footprint.
Plastic Free Schools Educators Resource Guide
The Plastic Free Schools Educators Resource Guide features websites, books, videos and other resources that you can use as a guide to explore plastic pollution issues and plastic free solutions with your students.

Green Fundraising for Schools
School fundraising does not have to involve high-calorie sweets, disposable junk you don't need, want or may harm the environment. We all know how desperate our schools are for funds—especially now—but how to raise funds in a green and healthy way? Many schools continue to profit from healthy and environmentally friendly fundraising activities.
Download Green Fundraising for Schools for some of our favorite ideas.


Green Grants for Schools
This listing includes national and local grants in the areas of gardens, nutrition education, alternative energy, recycling, waste management, and general environmental education grant opportunities.
Click here to download Green Grants for Schools.


Classrooms Simplify the Holidays

School campuses are also abuzz preparing for the holidays. Classrooms filled with anxious children and teachers race to finish projects before the break. As part of the Simplify the Holiday campaign, Kokua is offering the Green Holiday Educator Resource Guide full of tips and ideas that will help you green your classroom crafts and parties.
Also check out our 12 Days to a Green Holiday Guide for ideas to help simplify your season and make a commitment to start a new tradition today.
Please visit our Simplify the Holidays page for more ideas.


Resources
The Kokua Hawai'i Foundation is compiling a library of curriculum and lessons for teachers on a variety of environmental education topics. The Foundation will offer small grants to teachers for lessons/curriculum with an environmental focus. Click here to learn more about our school programs. If you have a new lesson or curriculum idea that you would like to share please contact us.
"In the end, we will conserve only what we love,
we will love only what we understand,
we will understand only what we are taught."
-Baba Dioun