All News
5th International Marine Debris Conference comes to Honolulu
April 04, 2011
Kokua Hawai'i Foundation was proud to be a sponsor of the 5th International Marine Debris Conference (5IMDC) in Honolulu from March 20 - 25. Kokua staff, Jack Johnson, and Hawaii Senator Daniel Inouye joined over 450 ocean minded educators, explorers, and experts from all parts of the world in Waikiki to share strategies and best practices in assessing, reducing, and preventing the impacts of marine debris.
Student videos from Huliau Foundation and Sunset Beach Elementary School were featured during 5IMDC Movie Night. These student filmmakers were rewarded with a day at Coconut Island, a marine research facility on Oahu.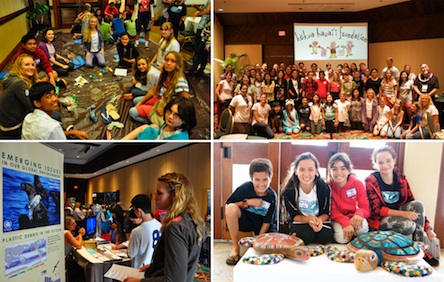 40 student leaders from 10 Hawaii schools and three islands participated in the Student Ambassador Workshop during the conference hosted by Kokua Hawaii Foundation. These students had an educational day filled with hands-on activities, guest speakers, learning opportunities, art and exhibit galleries. The students were able to gain knowledge, feel inspired, and share in an opportunity that made them recognize their own importance in the issue of marine debris.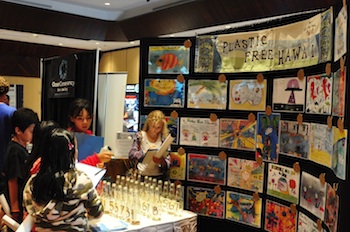 On display at 5IMDC were the finalists from the "Plastic Free Hawaii" Kokua Calendar art contest. Nearly 700 submissions were received and were narrowed down to 27 finalists. Conference participants were able to vote for their favorite. The display will also be featured at the Punahou School Sustainability Fair on April 21 where over 3,700 attendees will also have the opportunity to vote for the cover winner.
One 11th grade student, Kylie Courtney of Punahou School, said this about her experience at the workshop, "What I loved most about it was the emphasis it put on the fact that a single person can make a difference. If one person stopped buying plastic water bottles everyday and instead drank from a reusable one, that's 365 bottles in a year. That's 1,825 bottles in five years and 3,650 bottles in ten years. Those are all the bottles not tossed in the ocean by a single person making a simple choice, the choice of a cleaner, more beautiful future." Kylie continued, "It's not just for the next generation or the one after that. It is for all the generations that come after us. The earth is not passed down through the hands of our ancestors, but is borrowed from the hands of our children. Now it is my turn, my generation's turn, to continue this work."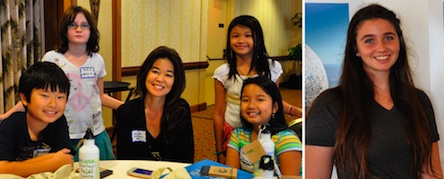 At the closing ceremonies, Jack shared the stage with Kylie Courtney and a group of 4th grade Student Ambassadors from Jefferson Elementary School who cheered their new Plastic Free Schools slogan, "Be Fantastic, Don't Use Plastic!" giving us all a tip on what we can do to prevent marine debris.

The perfect capstone to 5IMDC was a beach clean-up on Saturday, March 26th! Over 100 volunteers helped to clean up Kahuku Beach on Oahu's North Shore. An estimated 1.6 tons of marine debris was removed in just 2 hours. This debris was then sorted, counted and catalogued. It was an awesome effort hosted by Kahuku High School's AVID Club, BYUH Sustainability Club, Tangora Blue, Sustainable Coastlines, Waitemata Harbor Clean Up Trust and Kokua Hawaii Foundation.
Kahuku High School's AVID Club will continue it's 3R's Awareness Campaign with these events:
March 30 3R's Campus Wide Advisory Lesson
April 4 - 8 Campus Wide Waste Audits
April 6 "Sort It Out" play presented by Honolulu City & County
April 9 Recycling Drive - Starts at 9:00 AM
Comments