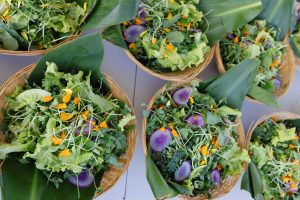 What an evening we had! Our inaugural Farm to Table dinner on the Kokua Learning Farm was truly spectacular. We extend a big mahalo to Ed Kenney (@edstown) a dedicated KHF board member and chef, along with his wife Spanky and their remarkable team from Mud Hen Water. They wove their magic with locally sourced ingredients, creating a meal that transported our guests as close to the source as one can imagine.
The multi-course meal showcased Koku Learning Farm fresh veggies & Hanai Hives honey, mouthwatering J Ludovico Farm fried chicken, Aloun Farms Hawai'i beans, Maiden Hawaii Naturals oils, the artisanal Bread Shop HNL bread, Tantog Farms lotus root, and @farmercareyhi micro greens, collards and eggplant. We couldn't have done it without the generous support of these incredible people & groups who donated supplies & time to support the farm: Aloha Artisans , Drink Summer Club , Kona Brewing Hawai'i , Tahnei Roy, Revolusun Smarthome for the power and more.
Our Farm to Table Dinner was met with such enthusiasm that it sold out in the blink of an eye! If you're interested on securing pre-sale tickets for our upcoming farm to table dinners and other events, we invite you to join our community as a Member. Simply follow the link in our bio or reach out to [email protected] to learn more.