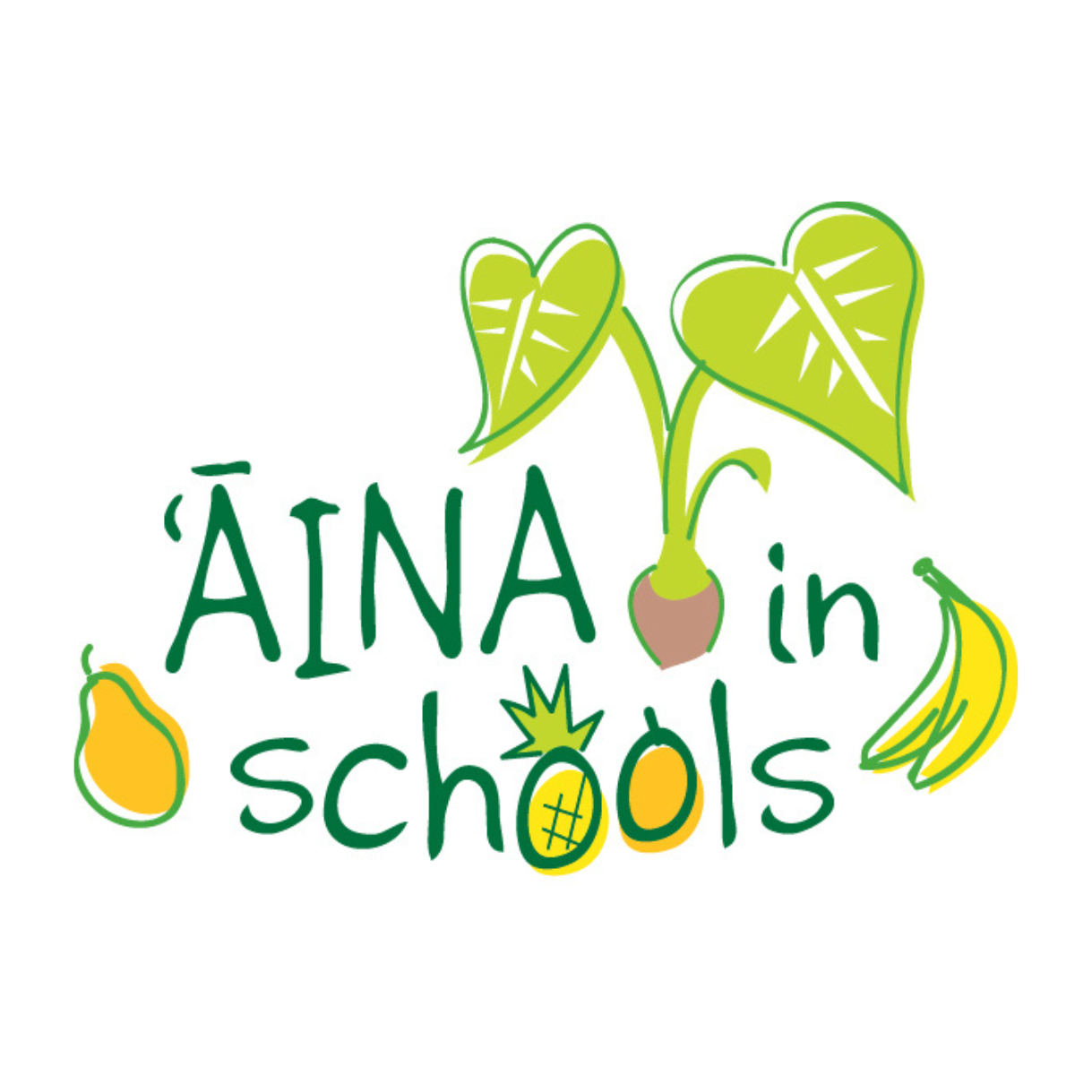 Explore our ʻĀINA In Schools Resources
Download lesson plans, garden how-tos, videos and so much more!
ʻĀINA Resources
ʻĀINA In Schools is a farm to school initiative that connects children
to their local land, waters, and food to grow a healthier Hawaiʻi.
ʻĀINA In Schools began in 2006, and focuses on:
Addressing childhood health issues by fostering healthy eating habits;

Encouraging environmental stewardship by connecting children to the land & water that sus

tains them;

Contributing to a healthy local food system by supporting Hawaiʻi's farmers and their produce.
Check out our participating list of ʻĀINA Schools!
'ĀINA IN SCHOOLS: SIX INTEGRATED COMPONENTS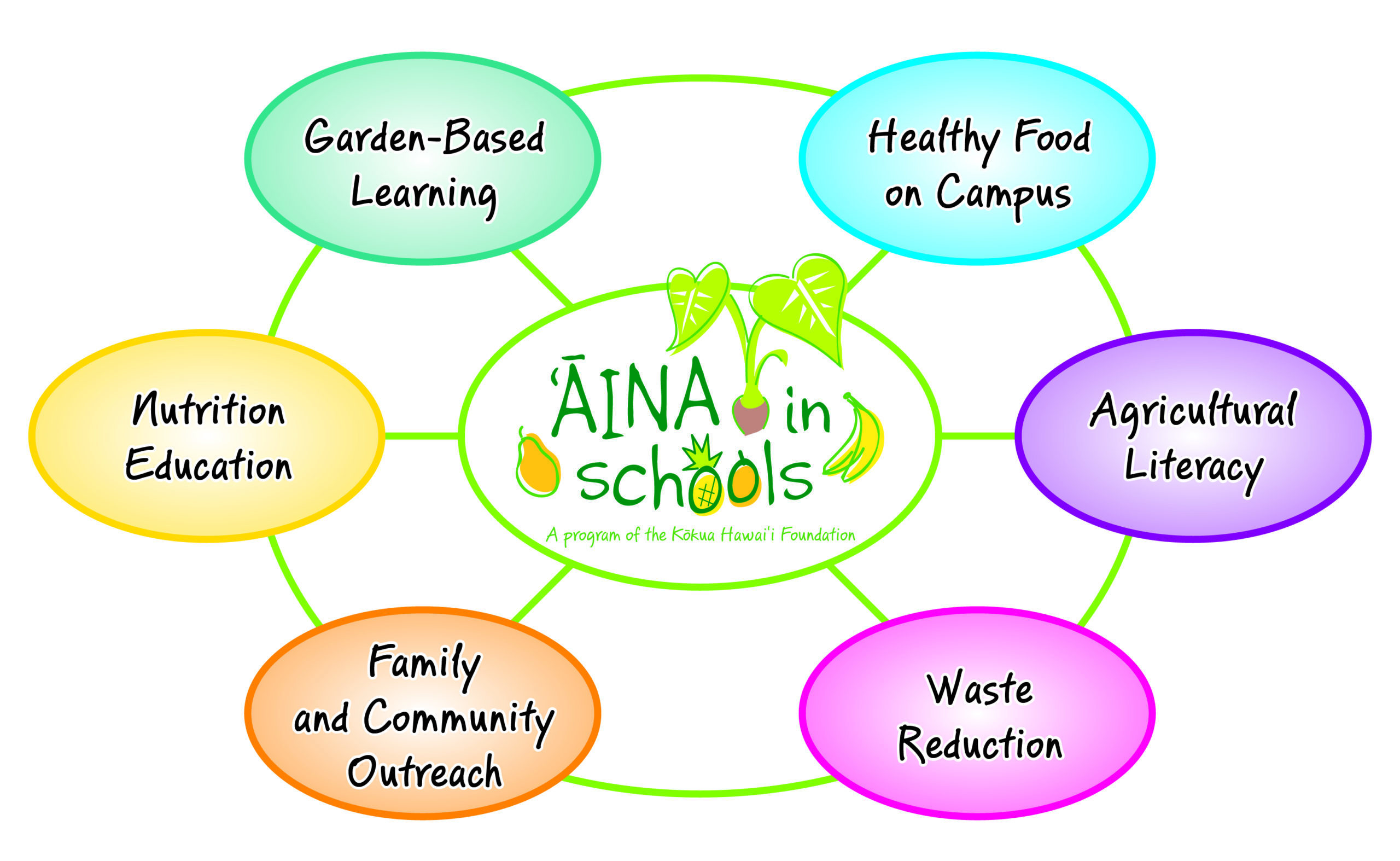 'ĀINA IN SCHOOLS COMPONENTS
Nutrition Education
The ʻĀINA In Schools Nutrition Education component empowers students to make healthy food choices that will last a lifetime. A series of 8 lessons for grades 2 and 6 focus on choosing foods that are good for both student and environmental health, by eating local, "close to the source," high quality whole foods.  All lessons include a food sample that reinforces the key concepts covered in each session.
Garden Based Learning
The 'ĀINA In Schools Garden-Based Learning component reconnects students to the natural world through the joys of gardening. There are eight 'ĀINA In Schools garden lessons each for grades K, 1, 4, and 5. Teachers and volunteers lead the garden lessons and oversee garden clubs.
Healthy Food on Campus
The ʻĀINA In Schools Healthy Food On Campus component increases local, fresh products in school lunches and snack programs to provide healthy choices. It also encourages healthy food and waste-free alternatives in home lunches, classroom celebrations, and school fundraisers.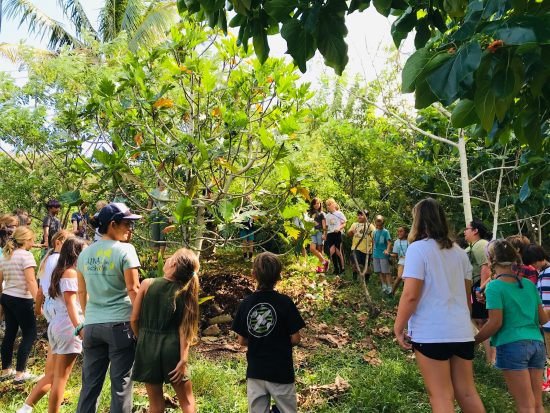 Agricultural Literacy
The 'ĀINA In Schools Agricultural Literacy component introduces students to where their food comes from and who grows their food. Activities include 
field trips to farms
, lo'i, loko iʻa, farmers' markets, and restaurants, as well as classroom visits by farmers, chefs, and other food producers. These activities give students a taste of where fresh, local food comes from, and how it can be made into a delicious "close to the source" meal or snack. These experiences also give students an introduction to career paths in agriculture and the culinary arts.
Waste Reduction
The 'ĀINA In Schools Waste Reduction component reduces, reuses, and recycles waste in gardens, schoolyards, cafeterias, and classrooms. Materials that would otherwise be thrown away become useful—and free—resources for the school!
Family and Community Outreach
The ʻĀINA In Schools Family & Community Outreach component brings ʻĀINA In Schools messages home to families and the broader community through special events, workshops, newsletters and more. Students are able to share what they learn at school with their families and the entire school community becomes more engaged with the 'ĀINA In Schools program.
SIGN UP FOR KHFʻS NEWSLETTER
Upcoming ʻĀINA In Schools Events
SUPPORT ʻĀINA IN SCHOOLS
BECOME A MEMBER TODAY