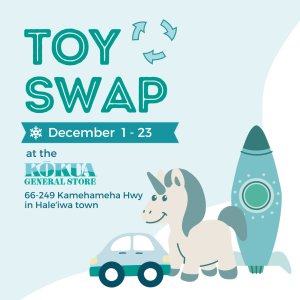 When: Starts December 1st, Ends December 23rd
Where: Kōkua General Store 66-249 Kamehameha Hwy in Haleʻiwa town
Know anyone with gently-used toys that are no longer being played with? Swap old toys for something "new" at our very first Toy Swap! This keiki-centered event is a great way to help reduce toy waste, clean out your toy boxes before the holidays, and also find pre-loved toys to take home or gift to a loved one.
How do I participate in the swap?
Stop by the store anytime from December 1st to December 23rd during store hours!
What if I don't have any toys to swap? 
No worries! You will be able to purchase toys for $10.00 each, with proceeds going to Kōkua Hawai'i Foundation.
What kind of toys can I donate?
We are accepting donations for clean, gently-used toys of any size and age group that are in good condition (not broken, stained, etc.). Please no toys resembling weapons or anything dangerous. Children's Books are also welcomed!
How many toys can I swap?
You can swap a maximum of 5 items–bring up to 5 of your favorites to trade, and be able to choose up to 5 "new" ones!
Can I take more than 5 items?
We respectfully ask that you only take a maximum of 5 items. This is a community event, and we want to ensure that everyone who participates has the opportunity to find something that they love.
If you have any questions, email us at [email protected]