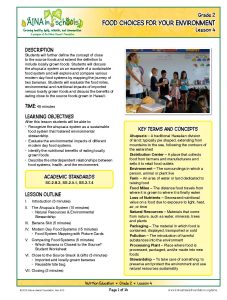 Nutrition Education Lesson Plan for Grade 2 Lesson 4: Food Choices for Your Environment.
Easily adaptable for other grade levels. Includes Lesson Plan, Lesson Worksheets, Take-Home Letter, and Visual Aids.
Please review the ʻĀINA In Schools Grade 2 Unit Overview for information on how this lesson fits into the unit.
There is no cost to download and use Kōkua Hawaiʻi Foundation lesson plans, but we do ask that you register via the form provided in the download link below. This helps us to track how our lessons are being used and how many students we are reaching.
Attention Hawaiʻi Educators: If you will be using all 8 Nutrition Education lessons with your students, you may be eligible for a Kōkua Hawaiʻi Foundation Mini-Grant to support the purchase of lesson supplies or materials.