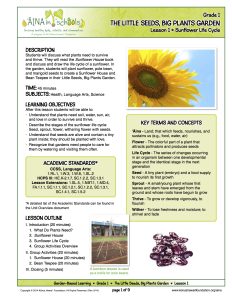 Garden-Based Learning Unit Grade 1: The Little Seeds, Big Plants Garden.
Key Concepts: 'Āina, the sunflower and green bean life cycles, measuring and counting, garden data collection, harvesting for food and seeds, pollination, and seed saving.
Subjects: Fine Arts, Health, Language Arts, Science, Mathematics
Easily adaptable for other grade levels. Includes Unit Overview, Lesson Plans, Lesson Worksheets, and Visual Aids.
Please review the ʻĀINA In Schools Curriculum Overview for information on how this unit fits into the broader K-6 ʻĀINA Curriculum.
There is no cost to download and use Kōkua Hawaiʻi Foundation lesson plans, but we do ask that you register via the form provided in the download link below. This helps us to track how our lessons are being used and how many students we are reaching.